Ever since the industrial revolution, people have been prioritizing economic development. As a result products are designed and manufactured in a linear "Cradle to Grave" paradigm. This "Cradle to Grave" paradigm means that once a natural resource is excavated, it follows the one way route of processing, manufacturing, usage and disposal (where it contaminates the environment). To compensate for the resulting resource depletion the slogan of the 3R ("Reduce, Reuse, Recycle") has been propagated. However, without making fundamental changes to product design, the environment continues to be contaminated, just at a slower rate. For example, current energy saving strategies simply prolong the lives of products or optimize them for downcycling (they cannot be recycled at the same quality as virgin material). Although this reduces the resources and energy consumption rate, the products still end up in the "grave" in the end.
To address this fundamentally flawed system Professor Michael Braungart began promoting the idea of "Cradle to Cradle". The basic concept of Cradle to Cradle is to use the same strategy that nature does - everything becomes a nutrient and can be returned to the environment or recycled without a lossof quality. Cradle to Cradle is a design paradigm based on the idea of nutrient management, which enables product materials to be upcycled again and again.
Materials are categorized as either "biological nutrients" or "technical nutrients". Biological nutrients are biodegradable and will easily reenter water and soil whereas technical nutrients will continually circulate as pure and valuable materials within closed-loop industrial cycles.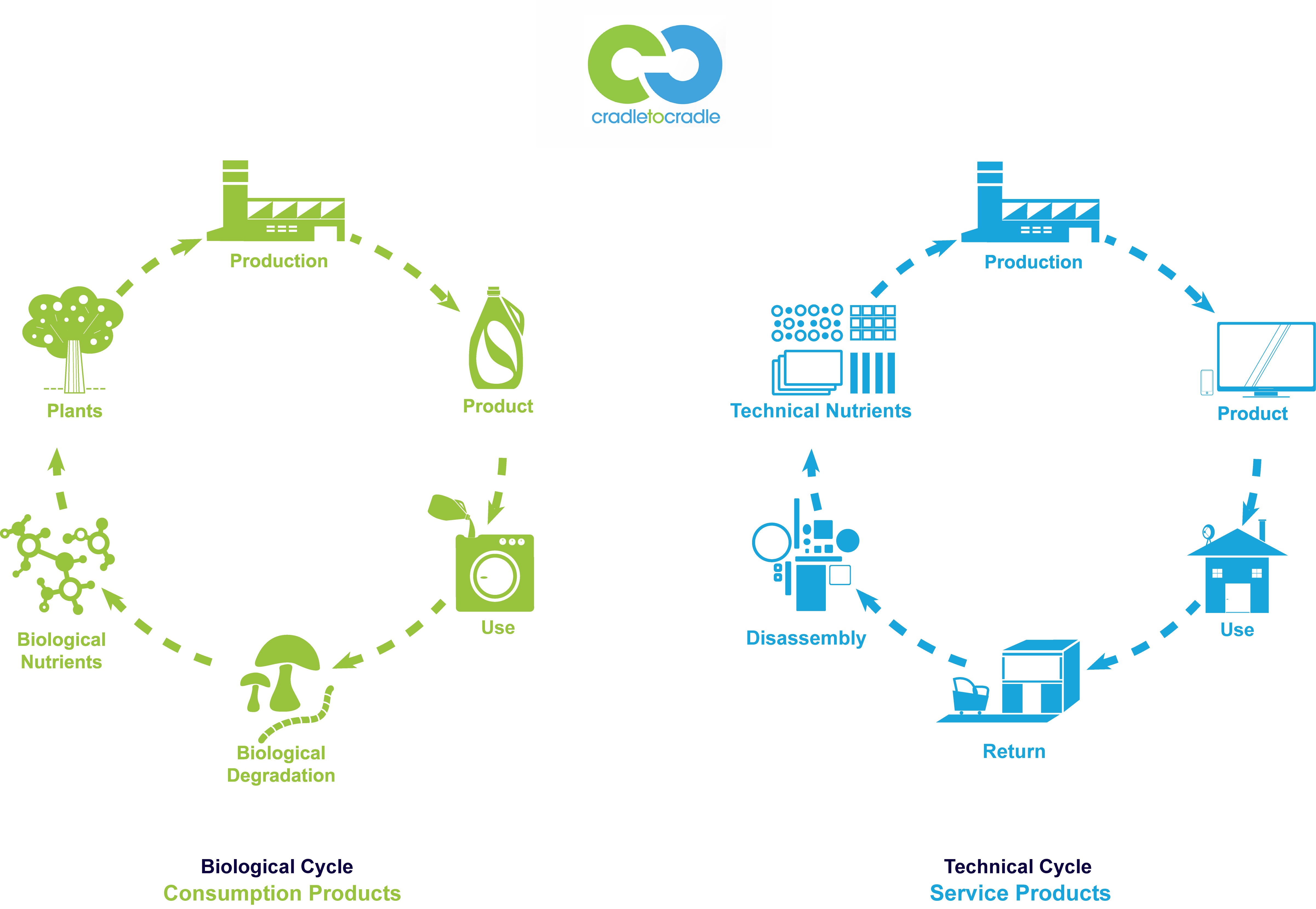 Cradle to Cradle evaluates products and production processes to ensure they use healthy materials, clean energy, have responsible water use procedures and proper take back mechanisms in order to create an eco-friendly supply chain. In pursuit of eco-effectiveness, the Cradle to Cradle design paradigm adheres to the following three principles:
Eliminate the Concept of Waste:
Waste does not exist in nature, because the processes of each organism contribute to the health of the whole ecosystem. Within this Cradle to Cradle framework, scientists, designers and engineers select safe materials and optimize products and services; creating closed-loop material flows that are inherently benign and sustainable throughout the production, use, and take back stages.
Use Renewable Energy
Solar derived energy includes wind energy, certain forms of hydro energy, tidal energy and energy from biomass. The Cradle to Cradle design paradigm encourages active development of solar derived energy instead of passively limiting power usage produced by traditional unsustainable methods such as nuclear power and fossil fuel based power.
Celebrate Diversity:
The Cradle to Cradle design paradigm recognizes and values diversity in ecosystems, culture, individual needs and problem solving. It recognizes that the way to solve environmental problems is not to pursue efficiency (which reduces harmful environmental effects) but to actively pursue eco-effectiveness, maximizing the benefits to ecology, society and the economy produced by human activity.
6-minute Cradle to Cradle introductory clip