Aromase Has Become The Lead of C2C Certified™ Hair Care Brand in Asia
The First Hair Care Products in Asia Attaining the Bronze Level of Cradle to Cradle Certification™
The series of Aromase certified products (picture provided by Aromase).
At the end of last year (2019), hair care brand Aromase collaborated with EPEA GmbH and EPEA Taiwan to integrate the Cradle to Cradle (C2C) concept into their best-selling products. Successfully, those products are Cradle to Cradle Certified™ Bronze level, becoming the lead of C2C Bronze level hair care products manufactured in Asia.
The four following products have attained the C2C Certification™:

1. 5α Juniper Scalp Purifying Liquid Shampoo

2. 5α Juniper Scalp Purifying Liquid Shampoo (no Menthol)

3. 5α Repair Hair & Skin Liquid Shampoo

4. 5α Juniper + MediPro™ Scalp Purifying Liquid Shampoo
These four products are all manufactured in Taiwan, and are available in the market worldwidely.
Creating a healthy hairdressing brand to awaken the original state of scalp
Aromase was founded by MacroHi, based on the concept of "observing carefully and solving problems actively", it formulates suitable formulas for different skin types, scalp problems and nature of hair, so that the scalp would be able to maintain healthy.
The container of Aromase is also unique. The bottle is designed with a "chipped corner" , which symbolizes scalp cleansing is indispensable in our daily lives; moreover, there is also Braille on the bottle to help the visually impaired understand the products through tactile. With such an innovative container design, Aromase has favorably shortlisted for the British Pure Beauty Global Awards for packaging design two years in a row.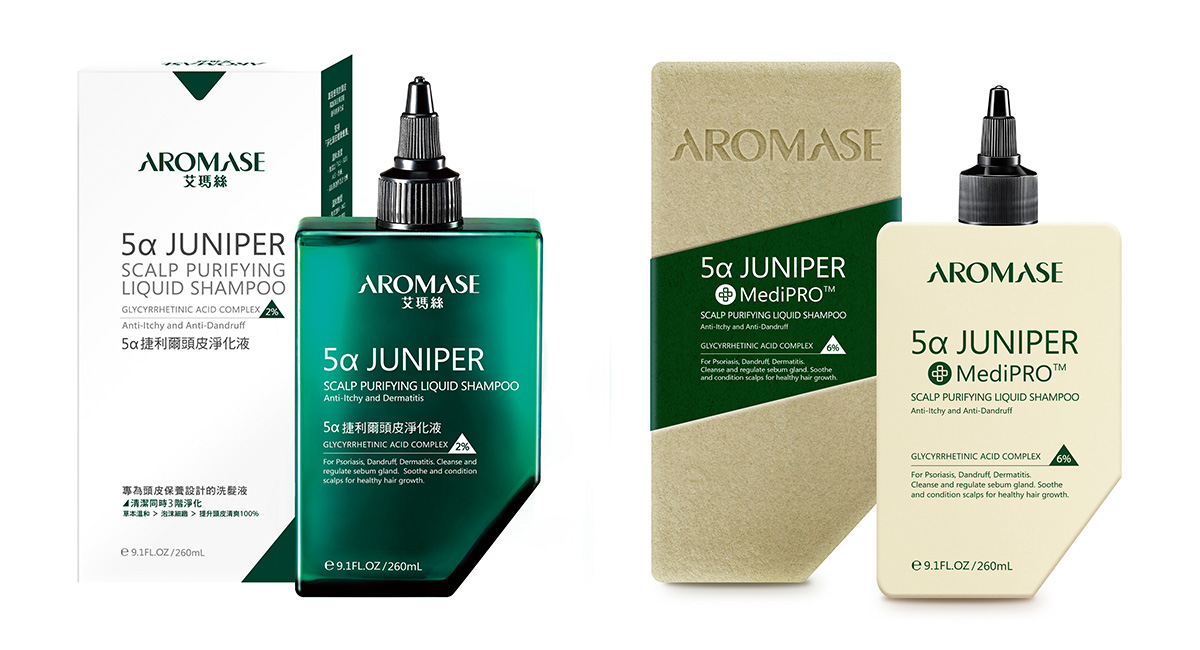 The bottles contain meaningful chipped corner bottle design (picture provided by Aromase).
The first step towards sustainability
"If I couldn't solve people's scalp problems, then I'm just making a bottle of soulless cleanser, not able to touch people. It is also really important to help the environment and restore the world to nature" said Eric Chen, the founder of Aromase.
Therefore, Aromase integrates the concept of sustainability into its products: they use post-consumer recycled materials to manufacture containers, optimize the product's manufacturing processes, formulate carbon management strategies to increase the proportion of renewable energy use, manage the usage of water, and pay high attention on labor rights and social fairness. After being audited by the C2C Product Innovation Institute (C2CPII), Aromase eventually obtained the Bronze level of C2C Certification. In terms of Material Recycling and Material Health, the four certified products have reached the Gold and Silver level respectively :
MATERIAL REUTILIZATION - Gold Level
The container is made of HDPE (No. 2 plastic) , which is recycled from food-grade bottles;the content of shampoo is made of various rapidly renewable natural ingredients. Besides, more than 95% of the ingredients could be quickly decomposed in nature after use. Those characteristics make Aromase qualified to the Gold level in the Material Reutilization aspect of C2C Certification.
MATERIAL HEALTH - Silver Level
5α Juniper Scalp Purifying Liquid Shampoo uses liquid to soften corneum, and adapts non-medicinal plant- glycyrrhetinic acid as the scalp care ingredient, not containing any carcinogenic, mutagenic, and reproductive-toxic substances to ensure the health of users.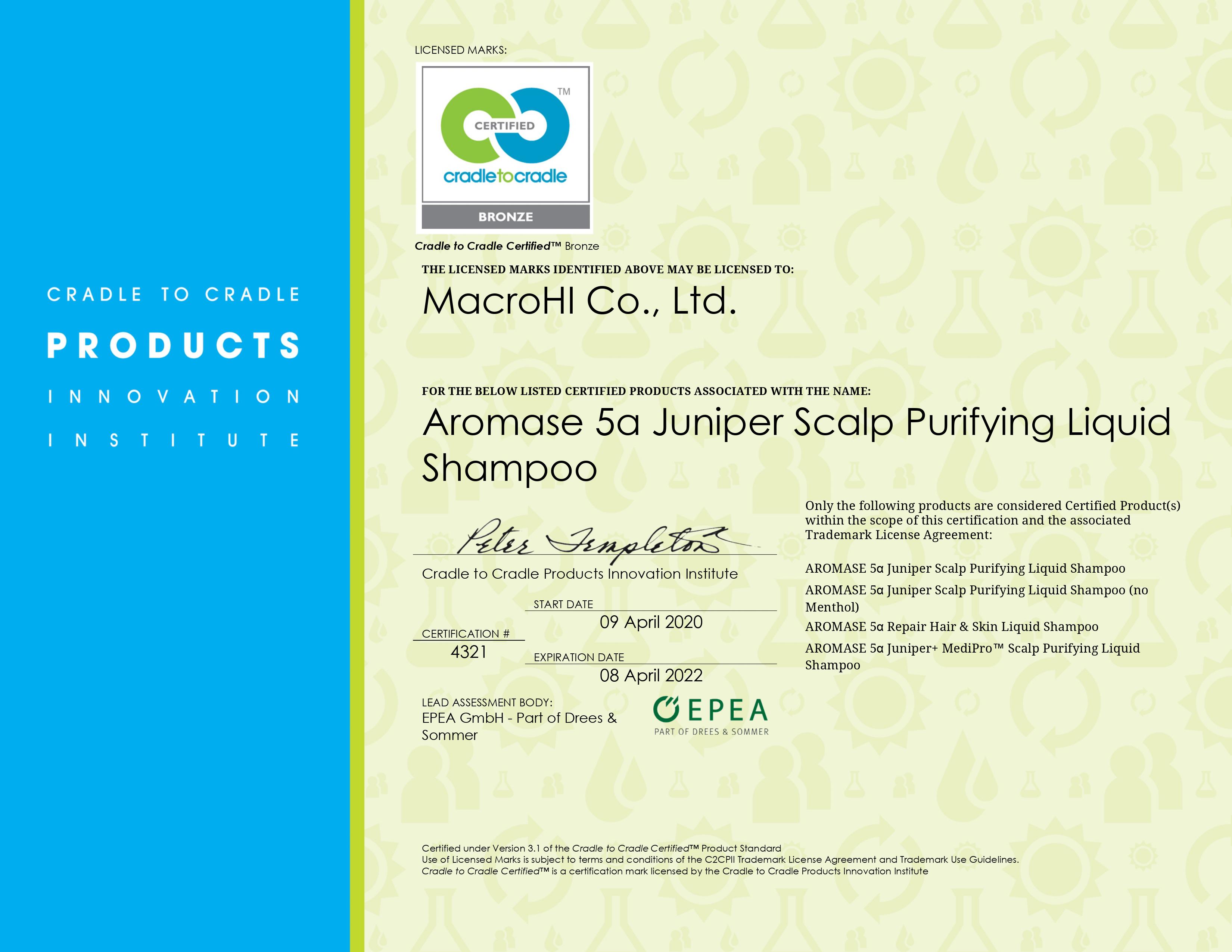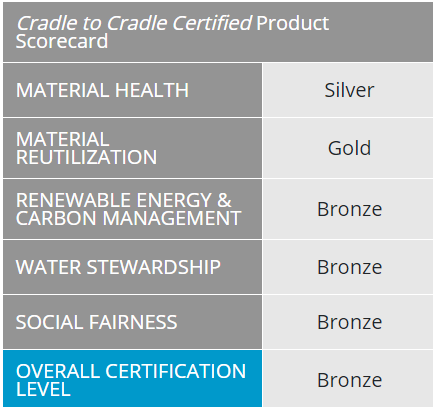 The Certification of Aromase's products.
Congratulations to Aromase for successfully moving towards Cradle to Cradle. We are looking forward to seeing Aromase progress further in sustainability. EPEA GmbH and EPEA Taiwan would also join hands with more Asian brands to lead the way toward C2C.
Reference:
C2CPII: https://reurl.cc/yZzMkE
Aromase:https://www.aromase.com/